Notification of draft technical regulations
During the drafting technical regulations the competent ministries, before the adoption of technical regulation shall communicate the draft technical regulation to Ministry of Economy along with the notification that must consist stipulated information about draft technical regulations.
In June 2010. The Regulation on manner of providing information and notification of technical regulation and conformity assessment procedures, has been adopted.
The aim of the Regulation isproviding efficient implementation the TBT WTO and CEFTA Agreements, in the part relating to notification of draft technical regulations, standards and the conformity assessment procedures,as well as the technical regulations in force in Republic on Serbia.
In accordance with the Article 77 of Stabilization and Association Agreement that relates to technical regulations, standardization, metrology, accreditation and technical regulations, the Republic of Serbia has obliged to undertake all necessary measures in the aim of achievement of compliance with the European technical regulations.
The said Regulation is fully in line with Directive 98/34, 98/48 EC which prescribe the procedure of providing information in the scope of technical regulations, standards and rule of services of information society adopted to prevent the creation obstacles to trade on single European market.
The said Regulation stipulates, in accordance to TBT, CEFTA Agreements and Directive 98/34, 98/48 that the Ministry of Economy is the Enquiry point for technical regulations as well as the Institute for standardization in Enquiry point for standards.
For a better insight of obligations of competent ministry, or an organization responsible for drafting technical regulations, as well as the obligations of Ministry of Economy as an Enquiry point for technical regulations, see scheeme below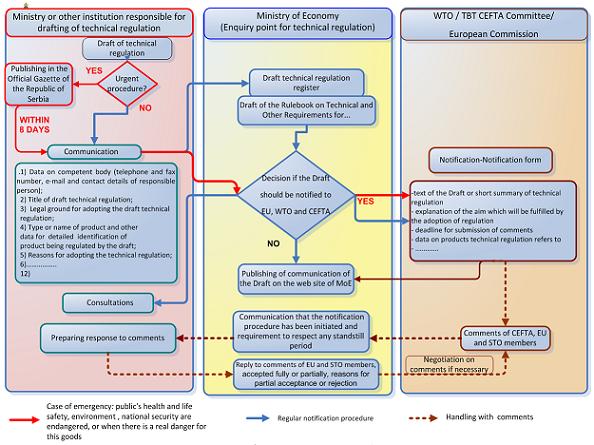 The essential diference of notification toward EU and WTO, is that toward WTO we notify the technical regulations and standards for those we estimate that thay could pose unnseccesary obstacles to trade and those who are not based on usage of international standards. To European Commission we shall notify all draft technical regulation in the non-harmonised area, as well as the technical regulations in harmonized area, if that regulation beside the requirements of european directives consist the national addition in the sence of additional technical requirements.
The big diference is, as well, in the legal concequences in the case of non-performing the notification. The concequences are more difficult in the case of failure of notification to the European Commission. That technical regulation is not a legally binding.